Normally I'm not a big fan of new year resolutions. But as 2020 was a real special year for everyone I wanted to start 2021 with something new. I thought about what I want to accomplish in the new year and made my goals out of this.
And, tada, here they are:
Starting my own blog
If you can read this I already accomplished this goal :)
I wanted to start my own blog for quite some time but never got the time nor the ideas what to write about. I looked for an easy solution to create my own blog. I wanted something leightweight which I felt technically comfortable. I read about Wink, a publishing package for Laravel by Mohamed Said, a Laravel team member, before. As Laravel is my framework of choice I wanted to give this combination a try. And it really worked out well and with some additional packages I could set up my blog quite fast in a few evenings. I will write an dedicated post about this soon.
The harder part was the content. I don't want to write about technical stuff only. It's part of my everyday work as a CEO of a web development company but I'm interested in more stuff and I want that to be reflected in my blog. That's why I decided to write about other, more personal, topics too. That will be mainly my running experience and music.
I thought about these for some days, created a Trello board to manage my ideas and could come up with some first ideas for 5 - 6 blog posts. As I don't want to write regulary (I thought about one article per month) these are already ideas for nearly half a year.
I will try to add ideas to my board as soon as they pop up. I like Trello for this because I can add ideas quickly and from everywhere as I use the Trello app on my phone. And you can give your ideas some structure by using lists in your board which fits your workflow.
I see this mainly as a learning for myself as I'm not a that experienced writer but I hope I can improve over time.
Running Goals
My whole life I made a lot of sport, mostly team sports. The main sport I did was playing football in an amateur team. I quit this 4 years ago. After one and a half year of doing sport very unregulary I decided to start running. While playing football I always hated plain running. But I thought it would be a good challenge and a good counterbalance to the team sports. And after a few runs it really cliked for me. I liked it to have time for myself and to be alone with my thougts. It was a really good balance to my often stressfull job as a company owner.
I had some phases in the past where I didn't run that regullary but all in all it worked out quite well for me.
I started the year by running every second day. The first four runs were over 10.5 km, the 5th run was over 18.5 km. I'm currently running the 10 km under 1 hour, approximately in a pace of 5:50. Based on this I set my goal for this year.
My first goal is to get to a pace of 5:30 over the 10 km.
My second goal is to run a half marathon in under 2 hours. I already run 2 half marathons in 2019, both very close above 2 hours. I think based on my current condition this should be possible.
My third and hardest goal is to run a marathon in 4:30. But to be honest, I will be glad if I can finish a marathon. I already tried one in 2019 but I was injured before and could only do strength training and train on the ergometer until 2 weeks before the marathon. I tried it anyways but had to abort it after 27 km.
How do I want to achieve my goals: I have a very good running book with different training plans based on your current condition and what you want to achieve. I will start by doing a 10 week plan for running a half marathon in 1:45 hours followed up by a 12 week plan for running a marathon in 4:15.
Important note: Before I tried the marathon in 2019 I went to a internest and got checked fully to see if it is a good idea to run a marathon. I wouldn't recommend to do it without such a check.
Doing open source work
I use a lot of open source work in my day to day work. And I always wanted to contribute myself but I never managed to do the first step. I want to change this in 2021.
My goal is to contribute to at least 2 open source projects. I have no particular projects in mind but I'm pretty sure that it will be projects I work with in one or the other way. I have no opinion on the type of contribution. I know that everything is valuable be it a contribution to the docs of a project, a bugfix or a new feature.
Giving a talk at a meetup
Talking in public is not something I enjoy. To be honest it is something that scares me. But growing means facing your fears and pushing your boundaries. That's something I want to try and that's why I set this as one of my goals.
The hidden agenda behind this is that, due to the worldwide pandemic, there are more options because all meetups are held online. And I think it makes it easier for me to give a talk at an online meetup. The downside is that it is most likely that there will be a recording of the talk ;)
I'm really curious how this turns out.
Only two meat meals per week
The environment is something I really care about. I think it is really important that we fight the climate crisis. It is a really big and global problem which seems overhelming for a single individual. But I think that everyone can do something. Everyone can change small habits and make his contribution to solving this problem. Me and my wife sold our car 3 years ago and haven't bought a new one. We do almost everything by public transport which is quite good in Graz where we live. Since half a year we have a cargo bike and do a lot by bike.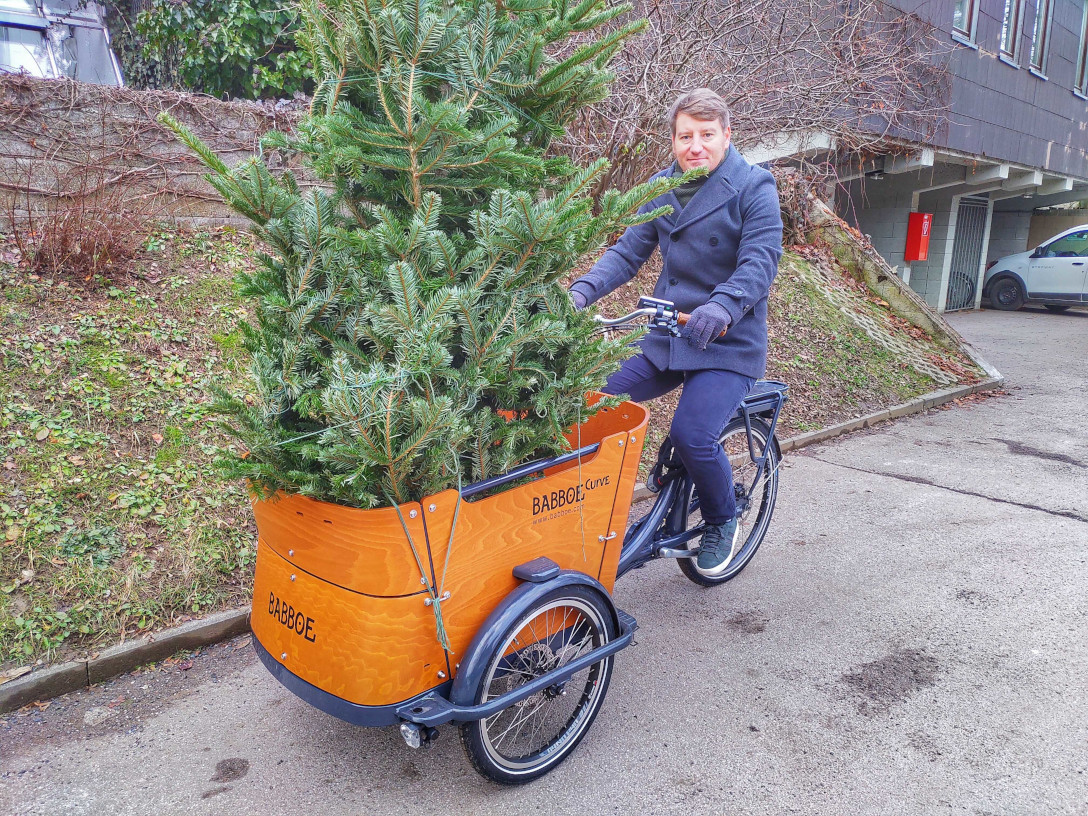 You can even transport a christmas tree with a cargo bike.
We also did every longer journey by train for the past 6 or 7 years. Be it a work related trip or be it our holidays. In the last years we have been to Ireland, Scotland, Amsterdam, Denmark and Sweden - everywhere by train. The night train system in Europe is really good and it is planned to extend it in the next years. It is really a comfortable way to travel. Getting into the train, going to sleep and waking up a few hundret kilometers away.
One thing I always struggled with was changing my eating habits. My grandfather was a butcher and I got a lot of meat when I was a child. And I liked it. I still like it. But I learned that the meat producing industry is one of the biggest CO2 producer worldwide. And eating less meat can make an impact. That's why I decided to try to reduce to two meal meats per week. No sausage on my breakfast bread, only 2 meals with meat per week.
This will be taff but I'm optimistic to it will enrich my meals and show me a lot of new options.
I'm really curious how this turns out and which of my goals I will reach in 2021. I will try to post updates regulary to keep myself motivated and reflect on my achievements.